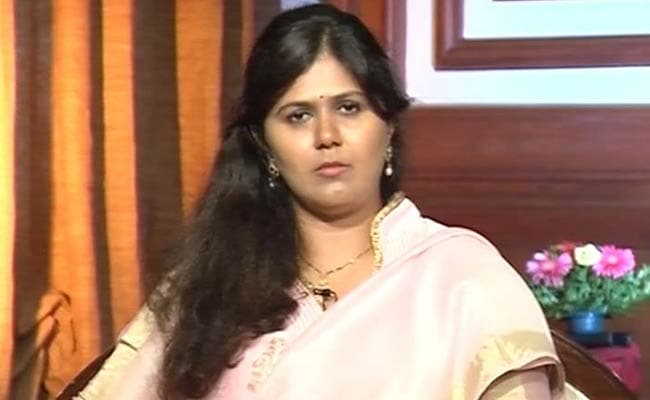 Mumbai:
BJP leader Pankaja Munde raised eyebrows today after dropping her party's name from her Twitter bio, which now simply reads: "Rt's are not endorsements". On Sunday Ms Munde wrote in a Facebook post that she needed time to introspect after a "changed political scenario (in Maharashtra)". In her post she asked for "8-10 days to communicate with myself" and said she would return with an answer before December 12, the 60th birth anniversary of her father – late senior BJP leader and Union Minister Gopinath Munde.
On November 28 Ms Munde tweeted a congratulatory message to Shiv Sena leader Uddhav Thackeray after he was sworn-in as Maharashtra Chief Minister at the head of an unlikely alliance of the Sena, the Congress and the NCP.
"May God lead you to fulfill the dreams of the honorable Balasaheb's dreams and expectations of Marathi man!!" Pankaja Munde wrote in Marathi, tagging Chief Minister Thackeray, his son and MLA Aaditya Thackeray and the Shiv Sena.
Shiv Sena leader Sanjay Raut played down rumours of a shock switch by Ms Munde to his party, saying "many leaders" were in touch. "As far as Pankaja Munde is concerned, we will have to wait for her to announce what she has in her mind," he said.
Pankaja Munde, 40, who served as Minister of Rural and Women, Child Development in the previous Maharashtra government, contested the Parli Assembly seat in October's election. She lost to her cousin, the NCP's Dhananjay Munde, by more than 30,000 votes.